MEHDI HASAN, MSNBC, APRIL 11: Eating and drinking indoors and in restaurants and bars. Is that ok now?
FAUCI: No it's still not OK for the simple reason that the level of infection in the community is still really disturbingly high ... And if you are vaccinated, please remember that you still have to be careful and not get involved in crowded situations, particularly indoors where people are not wearing masks.
Photo credit to Reuters
This is a festival in India where the numbers could be a hundred thousand or more? Is this ok? It was reported that only 1,000 cases of infection were detected in 48 hours. How many more cases would be detected in the new few days or weeks?
How believeable are the Indian numbers of Covid19 infection of 13.8m against America's 31.4m when India has a 1.4b population against America's 330m, and India is so fond of having such big festivals and crowds? Simple extrapolation, given the laxity in control measures in India relative to USA, who should have a bigger infection number?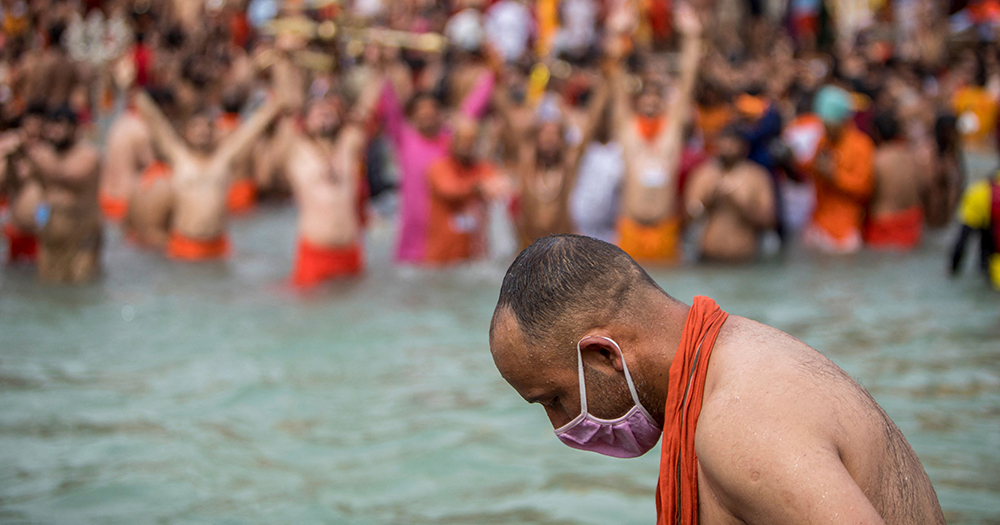 Photo credit to themothership
The Covid-19 virus has been detected in more than 2,000 people within the Indian city of Haridwar, Uttarakhand, where people have gathered for one of the world's biggest religious festivals, the Kumbh Mela, Indian media
Scroll.in reported
.
The festival which is held from April 1 to 30, sees pilgrims immersing themselves in the Ganges river to cleanse their sins, is expected to have
1 million daily visitors
.